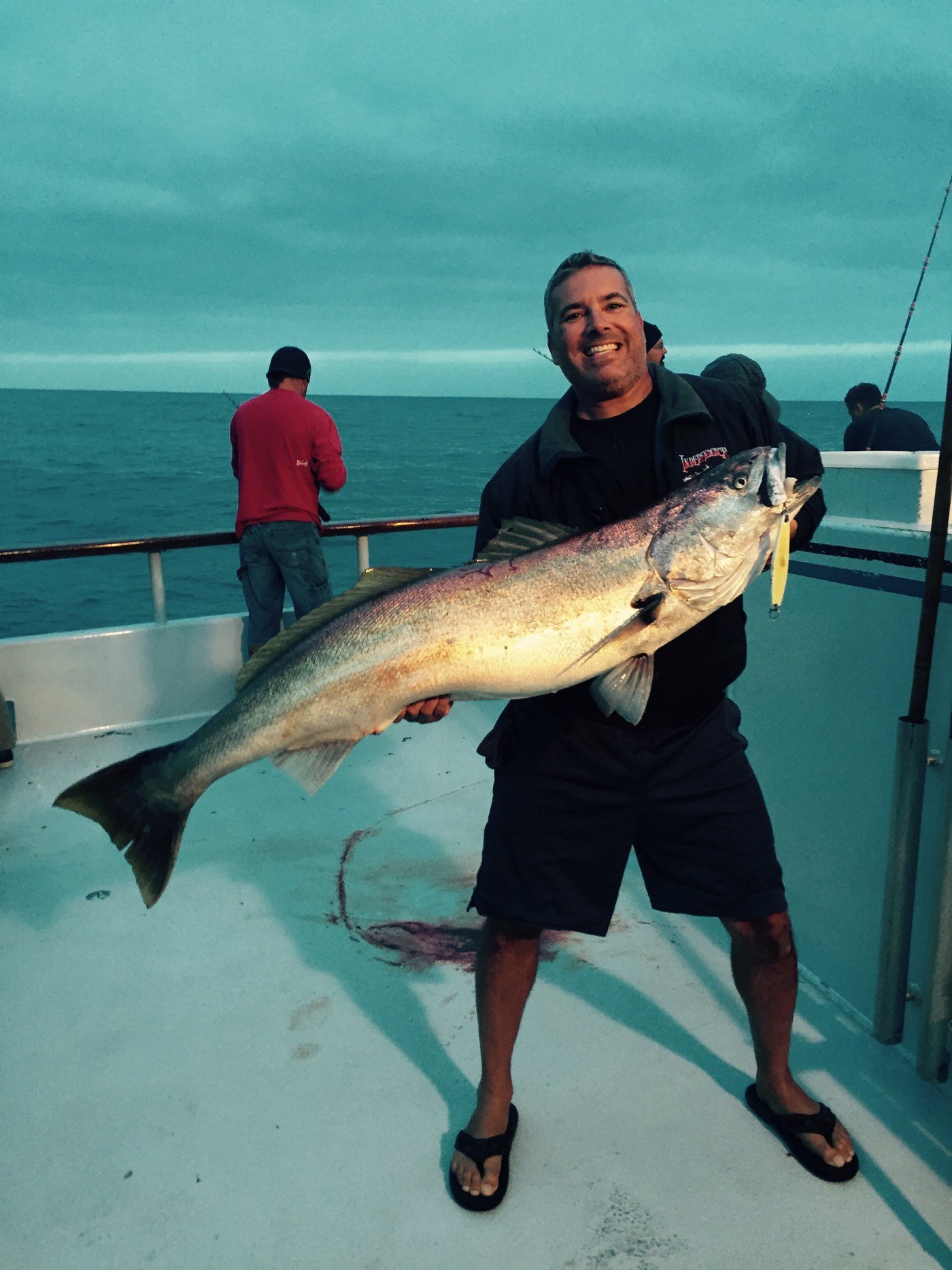 What Is HSB-36? [Definition, Cost, Uses, & Finishes]
Metal decking can be used in a variety of commercial and industrial projects. This type of decking generally has a ribbed profile and can be used for flooring and roofing as well as fencing and gates. This type of decking can be welded as well as installed using screws.
In this article, we will introduce you to the HSB-36 model of metal decking and highlight how you can use it as well as how much it's going to cost for your budget.
What Is HSB-36?
HSB-36 stands for High Shear B Decking. B Deck is the most commonly used structural metal decking. It's 1.5" deep and 36" wide and it's available as a non-composite roof deck or a composite floor deck.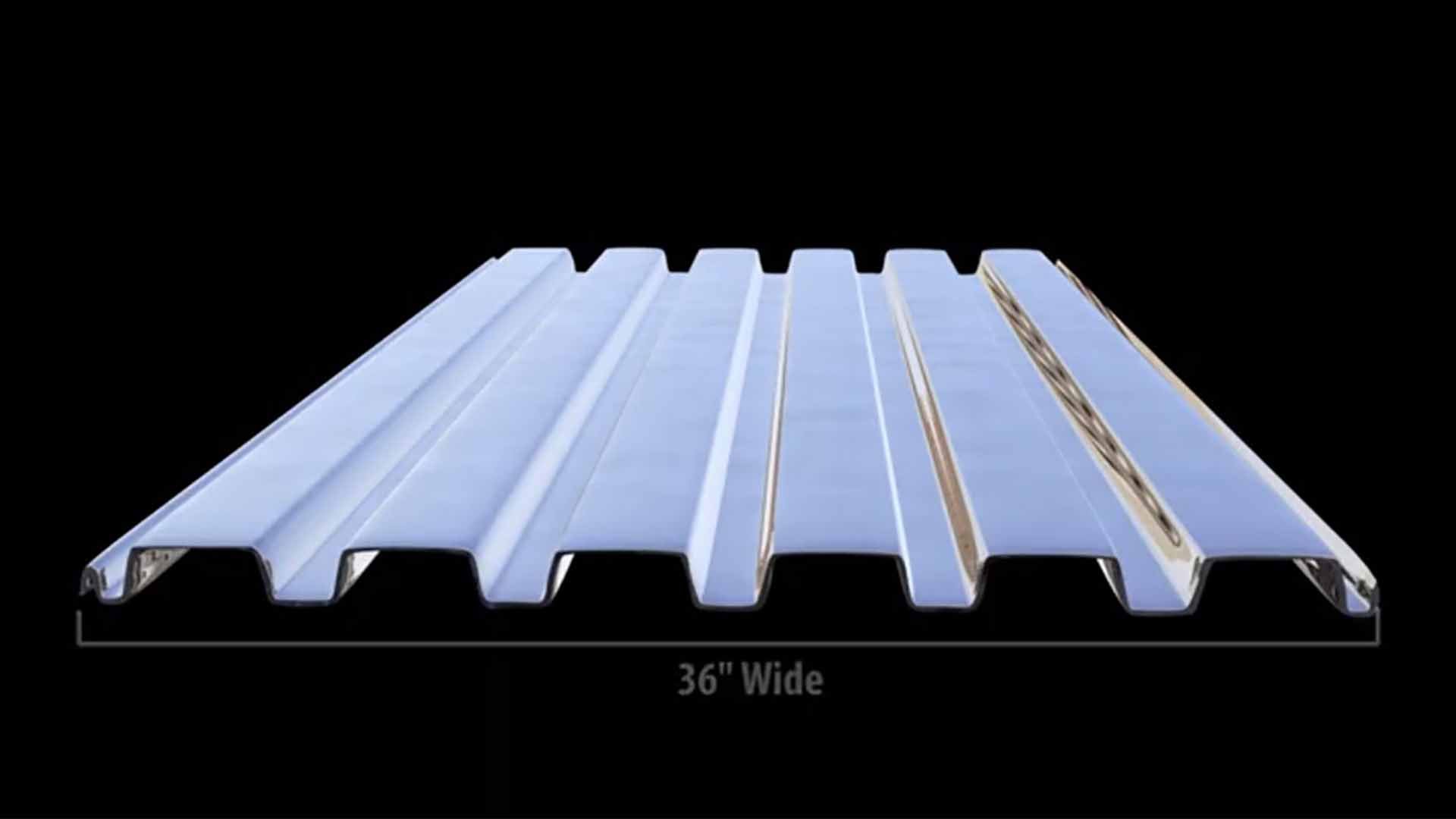 HSB-36 is a non-composite roof deck only, meaning it is a smooth metal decking. Since there aren't any embossments for the concrete to bond with, you should not pour structural concrete on HSB-36.
HSB-36 has a standard interlocking male and female sidelap. The sidelap is designed to be fastened with a button punch tool or top seam welded. It's not designed to be fastened with a Punchlok II tool. If you have a set of plans and the plans specify "Punchlok or PLB-36", then you have the wrong material. The sidelap of HSB-36 should only be fastened with a button punch sidelap or top seam welded.
Uses Of B Roof Decking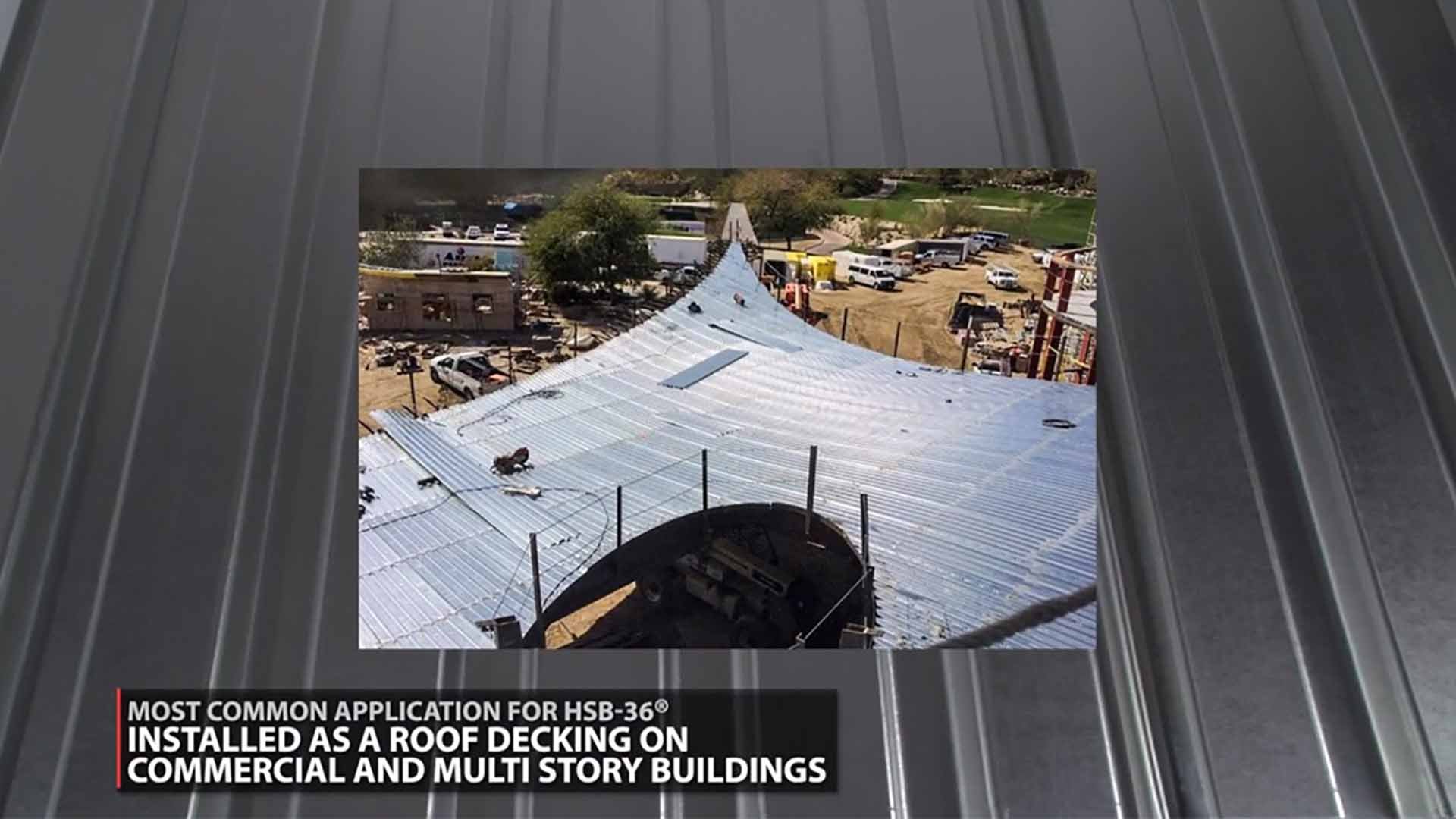 HSB-36 is engineered to provide support and act as a structural base to support roofing systems that are applied on top of the metal roof deck. The most common application for HSB-36 is when installed as a roof decking on commercial and multi-story buildings.
Some ways this roof deck can be used include:
Roofing On Canopies - The material is capable of longer spans than architectural roofing panels.
Trash Gates And Trash Enclosure Roofs - The heavy gauge panels can handle the beating that these gates take on a daily basis.
Fencing And Siding - Available in heavier gauges than metal siding panels.
Available Finishes For Verco B Decking
HSB-36 is available in a variety of finishes depending on what your project calls for. Lead times and locations vary for each type of finish. They include:
Galvanized G60 - G60 is a specification for hot dip galvanizing. It means that there will be .6 oz total weight of zinc

per square foot.

The most common finish and it's readily available.
Galvanized G90 - There will be .9 oz total weight of zinc

per square foot. G90 zince coating is n

ot readily available and will require a 3-5 week lead time. (Western Metal Deck has 18GA G90 in stock)
Gray Prime Painted - Use most often when the metal deck is not exposed. Cost savings of about ten cents per square ft. It's manufactured and readily available in Arizona only. It's rarely used in California and must be shipped in from Arizona.


Galvanized And Prime Painted - Rarely used and has large minimum order quantities, minimum 3-5 week lead time.
What Gauges Are Available For B Deck?
Metal decking gauges can be confusing, a smaller number is actually stronger and thicker steel. Most come in a 22, 20, 18, and 16 gauge
How Much Does B Deck Cost?
The cost of HSB-36 will vary depending on factors such as the current cost of steel, size of the job, gauge, and finish. The best we can do here is give you a ballpark cost. If you need an accurate price please contact us with the details of the job, and we will give you a more specific estimate.
Ballpark estimates for HSB-36 are:
22 GA $ 2.00 to $3.00/Sq. Ft.
20 GA $ 2.50 to $3.50/Sq. Ft.
18 GA $ 3.00 to $4.00/Sq. Ft.
16 GA $ 4.00 to $5.00/Sq. Ft.
Available Sheets Lengths & Lead Times
The lead time for your project will depend entirely on how big or small your project is. In smaller projects that are less than 10,000 square feet, the material is typically in stock and can be delivered immediately. Larger projects that are over 10,000 sq. ft. have the option of immediate availability or they can be ordered to custom sheet lengths. This requires a 2-4 week lead time.
How To Order B Decking
Before you are ready to order HSB-36, you must know the following information:
Type Of Metal Deck
Gauge
Finish
Sheet Lengths
Number Of Panels Needed
When you have this information, you're ready to place your order with us. Ordering with Western Metal Deck has never been easier. Our sales reps have many years of experience selling metal decking and are ready to assist you with any questions you have about HSB-36. Just fill out our quick and simple online quote request form for metal deck pricing and availability or call us at 1-800-545-9681.
About Paul Rubio
Paul Rubio is the Vice President and one of the owners of Western States Metal Roofing. He has been in the metal roofing industry for 25 years. WSMR is a manufacturer of metal roofing, wall panels, and metal siding. We have colors and finishes that nobody else has with nearly 100 different colors in stock. Our selection of color options and finishes is likely the largest in the industry.