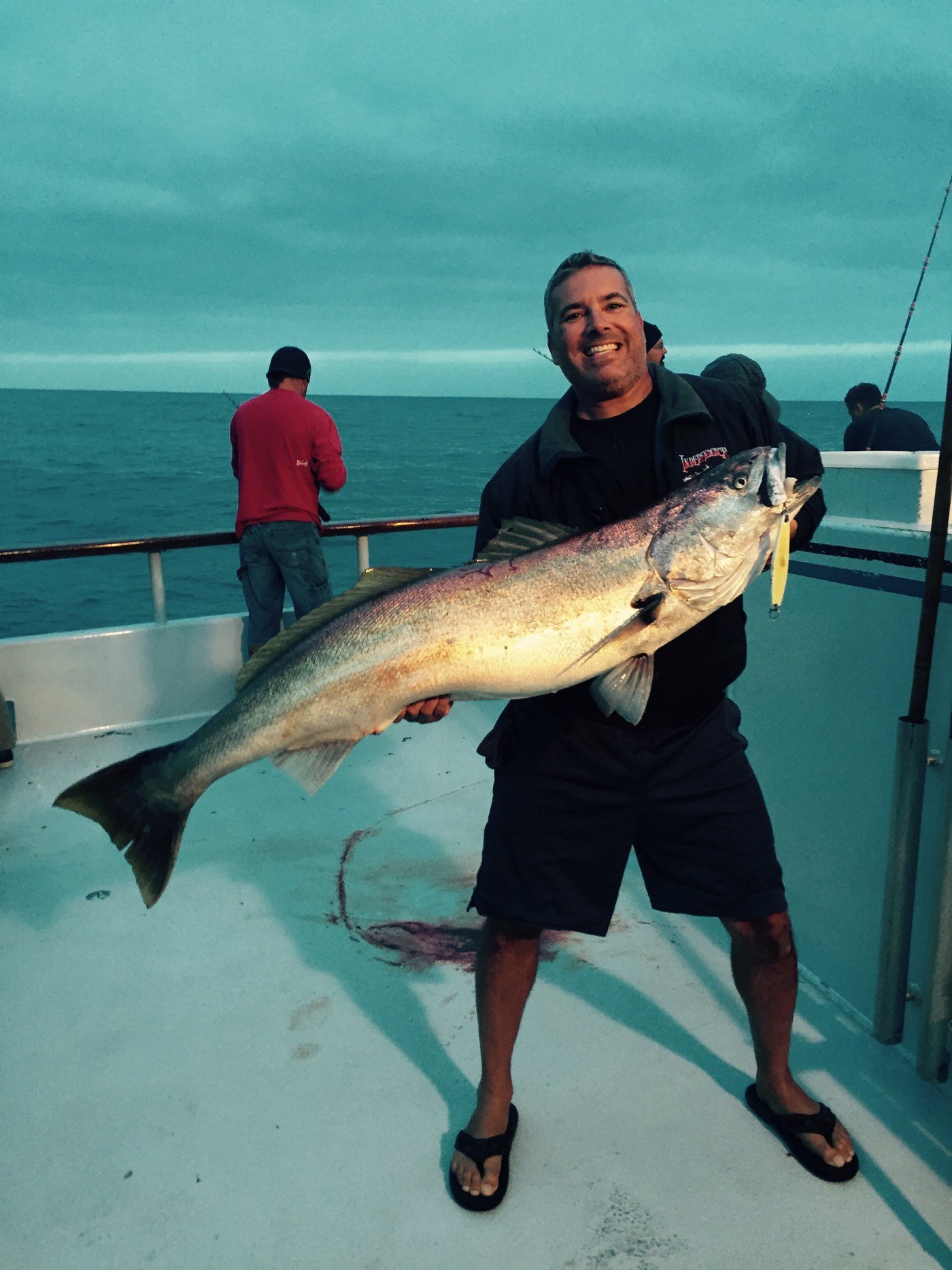 Choosing the Correct Saw And Saw Blade For Cutting Metal Decking
So you're a steel fabricator and you have been awarded a metal deck job. You're used to hanging iron, but not installing metal decking. You have looked around the internet and the only thing you can find are articles that talk about cutting deck with a grinder or a skill saw.
If you had a couple of sheets that would be fine, but on a project of any substance you need to have the correct equipment. Otherwise, you will bleed money on labor cost. This article will explain which equipment should be used to cut metal decking properly.
Our staff at Western Metal Deck consists of ironworkers who have worked in the field and cut metal decking. In addition, we sell and cut metal decking jobs to size for our customers on a daily basis. Time is money on a jobsite and we don't want you wasting it by using the wrong saw or saw blade to cut metal deck.
Our goal in this article is to take our 30 years of experience of cutting metal decking and pass on the knowledge so that your steel metal decking installation goes smoothly.
Our goal in this article is to explain:
If you enjoy this article then we recommend that you read this article:
The Best Way To Cut Metal Deck. A Guide To Cutting Roof & Floor Deck
Saw Blades For Cutting Metal Deck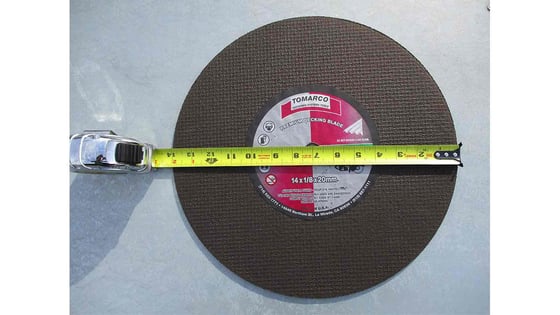 A saw blade is also known as a cut-off wheel when it's used on a cut-off saw. Steel is tough on saw blades and the blades can get worn out very quickly. A cut-off saw is a high speed machine designed to handle the heat created by cutting steel. You need a saw blade that is equipped to withstand these conditions.
Cutting metal decking requires cutting steel that ranges from as light as 22 gauge to as heavy as 16 gauge. Heavy gauge steel puts a lot of wear and tear on the saw blade.
You will be cutting 1.5" B deck, 2" floor deck, and 3" floor deck. The saw blade has to be long enough to cut through the material and not wear out immediately. If you used a 6" saw blade and were cutting a 3" N roof deck you would only have two inches to three inches of usable blade. This is why it's important to use a 14" saw blade.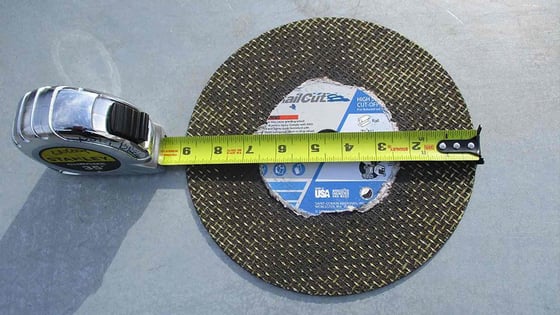 14" Abrasive Cut-Off Wheels
High quality 14" blades are heat-treated aluminum oxide grains, have a high strength phenolic resin bond, and are double reinforced with high strength fiberglass. In layman's terms this means the blade will be safe, make quick cuts with minimal burrs or vibrations. It'll have an extremely long life, even under the most aggressive cutting conditions.
Benefits of 14" Diameter Cut-Off Wheels
The bigger the blade the faster it cuts. The speed of the saw wheel is directly related to the circumference of the blade. If you use a 6 inch to 7 inch saw blade it will cut at about half the speed of a 14 inch saw blade.
In addition, metal decking is typically 36" wide and a larger diameter blade will cut more of the decking than a saw wheel with a lesser diameter. Labor is expensive and there is no reason it should take more than twice as long to cut roof deck or floor deck.
What's the Correct Size Cut-Off Wheel For Metal Decking?
Your saw blade should be 14" X ⅛" X 20mm. This means a 14" diameter blade, ⅛" wide, and designed for a 20mm auger hole on the cut-off saw. This will be the best blade to cut metal decking quickly and efficiently.
If you start with an inferior blade, too small of a blade, or one that is not designed for steel then you will have nothing but problems. Even inferior blades are not cheap. You will be lucky to get more than a few cuts from a low quality saw blade. It takes time to change these blades. If you have to change the saw blade after cutting a few sheets it will slow down your job.
Furthermore, using a small saw wheel could mean cutting decking at half of the speed and cutting half as much material than you could accomplish with a 14" diameter saw blade. Therefore, it's important to use a 14" high quality saw blade that is designed for steel.
Cutting Tools For Metal Decking
There are a variety of tools available to cut metal decking. The size of the job and the availability of the tool will determine which cutting tool is best for your project. We'll teach you the applications of each tool, as well as the pros and cons.
You'll learn about cut-off saws, grinders, skill saws, cutting torches, and electric shears.
Cut Off Saws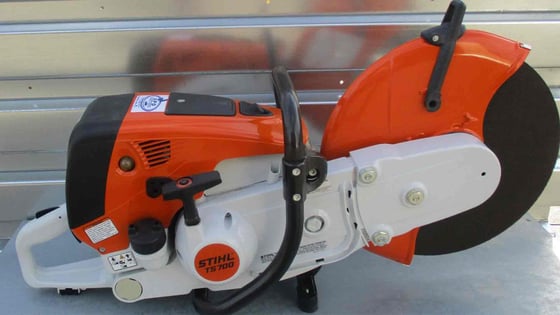 If you have a job with more than a few cuts then you need a gas powered cut off saw with the capacity for a large 14" saw blade. These are commonly referred to as concrete cut-off saws, but when you are cutting metal decking you will use an abrasive blade that is designed for steel.
If you have an exposed metal roof deck, then you need to make a clean straight cut. You want to minimize metal burrs and burning of the steel edges. A cut-off saw will make the cleanest cut in the shortest amount of time.
Cut-off saws are powerful machines that are designed to cut through steel or concrete. After the measurements are laid out, you can cut the metal decking in less than 30 seconds. Cut-off saws are also powerful enough to cut multiple sheets at the same time.
If you have a job with numerous sheets that have to be cut to the same panel length, then a cut-off saw is ideal. If you were to use a grinder, skill saw, or torch it would take significantly longer and that would drive up your labor costs.
Recommended Cut Off Saw For Metal Decking
There are many brands of cut-off saws to choose from. At Metaldeck.com we do not sell saws, but we have tried all of the top brands. The cut-off saw that has worked best for us is the 14" STIHL TS 700. This saw has been the most reliable, cuts the fastest, and is the best bang for your buck.
Purchasing Or Renting A Cut-Off Saw
Purchasing a high quality cut-off saw will cost $1,000 to $1,500. If you don't install metal decking regularly then it would be best to rent a saw if one is available locally. Most major cities have rental yards that carry these saws. United Rentals is one of many companies that offers cut-off saw rentals.
Daily Rental Rate of $76
Weekly Rental Rate of $255
Monthly Rental Rate is $663
Grinders and Skill Saws
If you are only cutting a few sheets a grinder or skill saw will work provided you have an abrasive blade designed for cutting steel. However, if you have more than a few sheets this will be a bad idea. A grinder or skill saw does not allow for a blade with a large enough diameter.
Typically blades on grinders and skill saws are six to ten inches in diameter. These smaller blades will cut too slowly and will not cut enough material. If you have a larger job, you'll want a blade that is a minimum of 12" to 14" in diameter. The rental cost of a cut-off saw will be less than the additional labor costs created by using a grinder or a skill saw.
Cutting Torches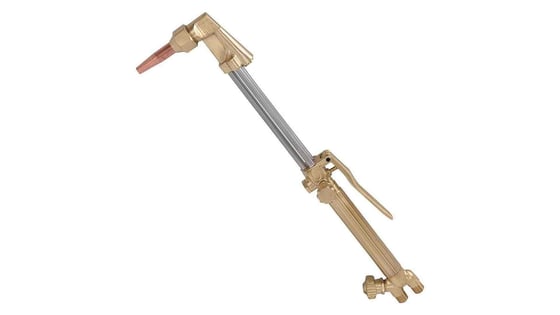 Cutting torches burn the ends of the material, the edges look horrible, and the decking is rarely cut straight. This should not be an option on a roof deck job that is exposed. It will not look clean enough and it will compromise the finish of the steel. If you have a lot of cuts then using a torch will take longer than using a cut-off saw. However, if you have a job that will not be exposed like a floor deck with concrete or a roof deck with a built up roof, a cutting torch could be an option.
The best time to use a torch is in a condition in which the material is not exposed and you are notching the decking to fit around columns or other jobsite conditions. With this specific application, the cuts only need to be accurate enough to fit. If you are off by an inch or so it can be flashed around. It is also easier to make radiused or circular cuts with a torch versus a saw. If you have a torch on your jobsite then this would be the best application for its use.
Electric Shears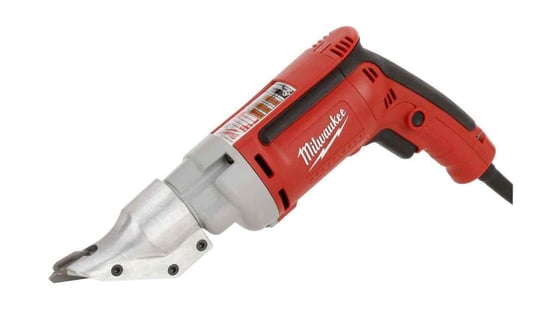 Electric shears are designed to cut sheet metal. Typically they will work on gauges that do not exceed an 18 gauge thickness. Shears will not work on horizontal metal decking cuts which means cutting the decking to length. Electric shears would be an excellent choice to cut the sheets vertically which means you are lessening the width of the sheet.
Watch How To Cut Metal Decking
Cutting metal decking can be simple and quick provided that you use the correct cutting tools and saw blade. If you use too small of a cutting wheel or a grinder versus a cut-off saw then it will take at least twice as long.
The average labor cost on a union Ironworker including all benefits and taxes is about one hundred dollars per hour. If you waste even one hour messing around with the wrong equipment you could have rented a cut-off saw at a daily rate of $76 and saved yourself time and money.
Maybe this all makes sense, but you're more of a visual learner. Or maybe you'd like to keep learning about cutting metal decking. Watch the video below to see exactly how to cut metal deck.
If you learn better by reading we have written a blog about this also. In addition, if you need to learn more about metal decking visit our metal decking learning center.
Save Time And Money. Get A Quote On Metal Decking And Have It Delivered The Next Day.
If you have not already purchased your metal decking the experts at Metaldeck.com are here to help. Give us an opportunity to provide you a free quote with our quick and easy to fill out online quote form. If you would prefer to talk with a metal decking expert than give us a call at (800)545-9681
We have the largest metal roof deck and floor deck inventory in the industry. Metaldeck.com has locations in Ontario, California and Phoenix, Arizona. If your job is located elsewhere we can ship it quickly and inexpensively.
Metal decking can be picked up or shipped within the same day or next day.
About Paul Rubio
Paul Rubio is the Vice President and one of the owners of Western States Metal Roofing. He has been in the metal roofing industry for 25 years. WSMR is a manufacturer of metal roofing, wall panels, and metal siding. We have colors and finishes that nobody else has with nearly 100 different colors in stock. Our selection of color options and finishes is likely the largest in the industry.